Quality and Safety

Uncompromising research and development
We are actively involved in developing new food processing technologies, with examples including (Tamagotoji, a Japanese Egg product for topping) production technology and technology to improve the taste of imitation crab meat. We have acquired numerous patents for our original technologies. We have developed a production line that supports a food production process using professional chefs' cooking techniques. We aim for fully fledged product development.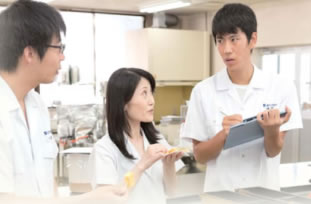 A quality control framework of the world's highest standard
Ahjikan believes it is a priority issue to always maintain a quality control framework at a high level. We see this as being the social responsibility of a company involved in food. Ahjikan has received authorization in hazard analysis and critical control points (HACCP) and certification in global standards for quality and food safety, including ISO 9001, ISO 22000 and Food Safety System Certification (FSSC 22000).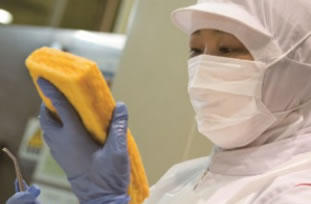 About FSSC22000
FSSC 22000 provides a framework to effectively manage an organization's food safety responsibilities. The qualification is fully recognized under the Global Food Safety Initiative (GFSI) and is based on existing ISO standards.
FSSC22000
Food safety system for food manufacturing organisations
ISO22000
Fusion of HACCP and ISO9001 food
safety management system concepts
HACCP

Technical food safety approaches

ISO9001

Continuous improvement of management system
PAS220

Pre-requisite programme for food safety
(building structure, measures to prevent cross-contamination, etc.)

Additional request items

Service specification forms
Supervision of employees
Unplanned advance notification examinations
Input (raw ingredient) management, etc.
Rigorous risk management
Traceability of Material
We have established a system to track and ascertain the origin of ingredients and products to prepare against major risks such as the outbreak of bird flu. For example, we can track the collection date and coop of eggs used as product ingredients. We know exactly when and from where the ingredients in our products were sourced.
Own traceability system
Customer
Circulation
Factory
Materials
Trace back :

Reconsideration of history of raw materials and production

Trace forward :

Pursuit of distribution history and shipping destinations
Food Defense
We have introduced an access management system using vein authentication and installed security cameras. We have established a system to prevent products from various hazard factors that could arise due to human error, rigorously ensure product safety.